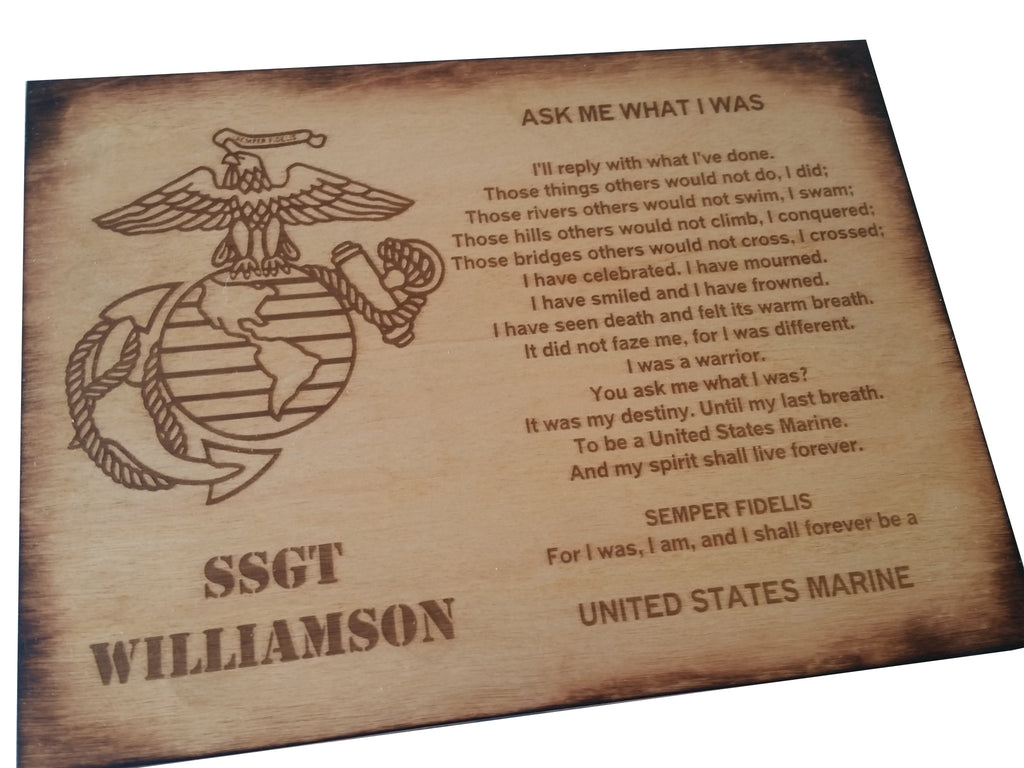 Have a question about this product or request a custom order?
Contact us!
Personalized USMC - Ask Me What I Was - Oak Stained Retirement Plaque- Marine Corps Veteran - USMC retirement gift
<!– Add turnaround snippet –> Made to order item. Expected ship date:
<!– add metadata –>
This personalized USMC Ask Me What I Was plaque/sign is personalized for the retiring Marine or for a Marine that is ending their active service. The words to "Ask Me What I Was" are etched into the wood sign along with an image of the Eagle Globe & Anchor and the retiring Marine's rank and last name. The images and words are laser etched giving a nice contrast from the rest of the wood. The sign is then finished a clear coat to seal the wood. The back has a saw-tooth hanger for easy wall hanging. Makes for a perfect gift for a Marine veteran.
You have the option to have the etches scorched to give it a nice aged/rustic look. The scorched edges will vary depending on the grain of the wood.

Dimensions:
About 11.5" x 8.5" x .5"
Also available in black.
Similar USMC related Items
https://www.five1designs.com/collections/marine-corps

USMC Official Hobbyist, License # 11417

ASK ME WHAT I WAS

I'll reply with what I've done.
Those things others would not do, I did;
Those rivers others would not swim, I swam;
Those hills others would not climb, I conquered;
Those bridges others would not cross, I crossed;
I have celebrated. I have mourned.
I have smiled and I have frowned.
I have seen death and felt its warm breath.
It did not faze me, for I was different.
I was a warrior.
You ask me what I was?
It was my destiny. Until my last breath.
To be a United States Marine.
And my spirit shall live forever.
SEMPER FIDELIS
For I was, I am, and I shall forever be a
UNITED STATES MARINE
---
Share this Product
---
More from this collection