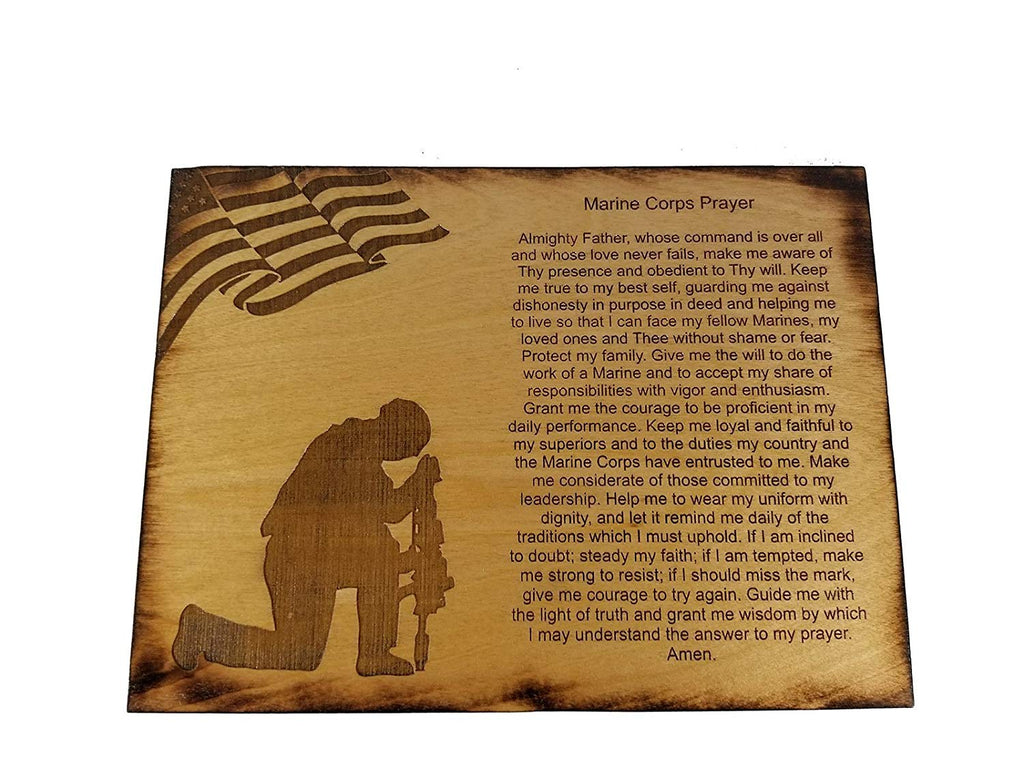 Have a question about this product or request a custom order?
Contact us!
Marine Corps Prayer Sign - USMC Prayer - USMC Gift - 8.5 x 11.5 Marine Corps Prayer Sign
Marine Corps Prayer wall decor/sign for a brave Marine that has put their life on the line for our country. The Marine Prayer along with a waving American Flag and a silhouette of a Marine kneeling are etched in the plywood. The edges of the sign are scorched giving it a nice rustic/aged look. The sign is finished with an oak stain and clear coat.

Dimensions:
About 11.5" x 8.5" x .5"

Color: Oak Stain
Edges: Scorched

Please note that the scorched edges will vary along with the grain of the wood.

USMC Official Hobbyist, License # 11417

Marine Corps Prayer

Almighty Father, whose command is over all and whose love never fails, make me aware of Thy presence and obedient to Thy will. Keep me true to my best self, guarding me against dishonesty in purpose in deed and helping me to live so that I can face my fellow Marines, my loved ones and Thee without shame or fear. Protect my family. Give me the will to do the work of a Marine and to accept my share of responsibilities with vigor and enthusiasm. Grant me the courage to be proficient in my daily performance. Keep me loyal and faithful to my superiors and to the duties my country and the Marine Corps have entrusted to me. Make me considerate of those committed to my leadership. Help me to wear my uniform with dignity, and let it remind me daily of the traditions which I must uphold. If I am inclined to doubt; steady my faith; if I am tempted, make me strong to resist; if I should miss the mark, give me courage to try again. Guide me with the light of truth and grant me wisdom by which I may understand the answer to my prayer. Amen.
---
Share this Product
---
More from this collection