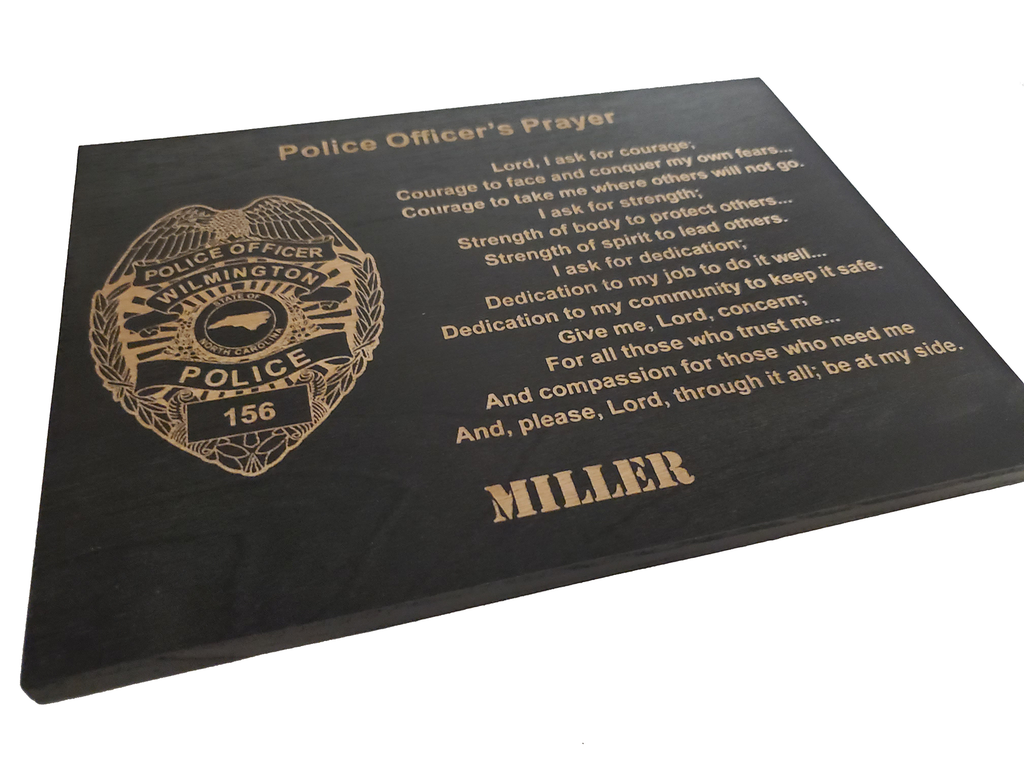 Have a question about this product or request a custom order?
Contact us!
Personalized Police Officer Badge Prayer Sign - Police Officer's Prayer - Police Graduation Gift - 8.5"x11.5" Black Sign
<!– Add turnaround snippet –> Made to order item. Expected ship date:
<!– add metadata –>
This Personalized Police Officer's Prayer sign would make a great gift for any police officer. Whether it is for a new graduate from a police academy or someone that is retiring after many years of service in law enforcement. The personalized police badge and Police Officer's Prayer design are etched into the black painted wood revealing the natural wood color and grain. The sign is finished with a clear coat and has a saw-tooth hanger on the back for easy hanging. . Due to the nature of wood, each sign may vary slightly in wood grain, color, and scorched edges.

DIMENSIONS:
About 11.5" x 8.5" x .5"

ORDERING INSTRUCTIONS:
When ordering this item please be sure to include the following information in the personalization section. If all the information is not included the order may be DELAYED or CANCELED.

LINE 1: This is typically for the rank of the law enforcement officer. Ex: DETECTIVE, LIEUTENANT, SERGEANT .... ( Please note - typically I recommend "POLICE OFFICER" on this line if the officer is still active duty. If this item is going to be a retirement gift or a promotion gift the actual rank would be more appropriate ).
LINE 2: This line is typically reserved for the town or city where the police officer is employed.
LINE 3: This line typically has "POLICE" but can be replaced with other text.
LINE 4: This line is typically where the badge/ID number would go however if you do not have the badge number this could be the state abbreviation.
STATE: Please include the state so that the center of the badge would include the state shape.
NAME: Typically the last name is used however rank, full name, and/or other information could be included. Such as DETECTIVE JANE SMITH / SERGEANT MILLER / JONES.

If you have any questions please feel free to message us.

The item typically takes around 1-2 weeks to be completed and shipped. Leading up to holidays (Mother's Day, Father's Day, Christmas, and etc.) the turnaround time will be longer. If you need it faster please feel free to message us and we will let you know if we can meet your deadline.

This sign could be gifted for a promotion, graduation, retirement, or just about any other occasion.
At this time this is the only badge design for this sign. - If you would like a custom badge design or further modify the design please send us a message with your requested information and we will get back to you with options.
---
Share this Product
---
More from this collection